Programma
Traditionele sluitingswedstrijd tegen SGS op zaterdag 29 augustus aanstaande
Op de laatste zaterdag van augustus sluit de Mixed Cricket Club Hengelo het seizoen op traditionele wijze af met een wedstrijd tussen de Hengelo Presidents XI en SGS. Aan de toevoeging "Presidents XI" kun je al zien dat de opstelling voor deze wedstrijd door onze voorzitter wordt gemaakt. Hij houdt hierbij rekening met cricketvaardigheden maar zeker ook met de verdiensten die betreffende spelers voor de club hebben (gehad). Aangezien het dit jaar voor de vijftigste keer is dat deze wedstrijd wordt verspeeld, willen we er een grote happening van maken. Leden en oud-leden worden dan ook nadrukkelijk uitgenodigd om bij deze dag aanwezig te zijn. Een officiële uitnodiging volgt nog, maar het kan geen kwaad om de 29ste augustus vast met rood in je agenda te vermelden.
Traditional closing match of the season against SGS on Saturday 29th of August
On the last Saturday of August the Mixed Cricket Club Hengelo marks the official end of the season with a match between the Hengelo President's XI and Still Going Strong Cricket Club (SGS). The line-up for this match will be determined by our club chairman. He will judge players on their ability but also (more importantly) their commitment towards the Mixed Cricket Club Hengelo. This year celebrates the 50th anniversary of this match. So we will try to make this occasion as memorable as possible. All our members and former members are invited to join us on the 29th of August. An official invitation will follow!
TeamSnap
Om aan te geven wanneer je kunt spelen, ga naar TeamSnap.
To set your availability for matches, please go to TeamSnap.
Wedstrijden buiten de competitie (non-league matches)
Zondag 19 april 12:00 Hengelo vs. Hengelo
Zondag 26 april 11:00 Hengelo vs. SGS
Zaterdag 20 juni 11:00 7-a-side tournament at Salland
Donderdag 25 juni 11:00 Hengelo vs. SGS
Woensdag 29 juli 12:00 SGS vs. SGS
Zaterdag 29 augustus 11:00 Hengelo vs. SGS (Puttkammer - Van Lennep Memorial)
Competitiewedstrijden (league matches)
Behalve op TeamSnap, kun je een overzicht van de competitiewedstrijden zien onder Uitslagen (results). Dit overzicht laat ook de wedstrijden tussen andere clubs zien.
Klik hier voor routebeschrijvingen en andere informatie over de andere clubs.

Apart from on TeamSnap, you can see the list of league matches under Uitslagen (results). This overview includes matches the other teams in our league play.
Click here for directions to the other clubs and other information.
Kampioenen!
Hengelo 1 is kampioen geworden van de Oost Klasse 2014!
In de kampioenswedstrijd in Zwolle werd op 31 augustus ruim gewonnen van CCZ. Rahim pakte vijf wickets en Tom sloeg de winnende runs met zijn tweede boundary van de dag, tevens zijn tweede ooit.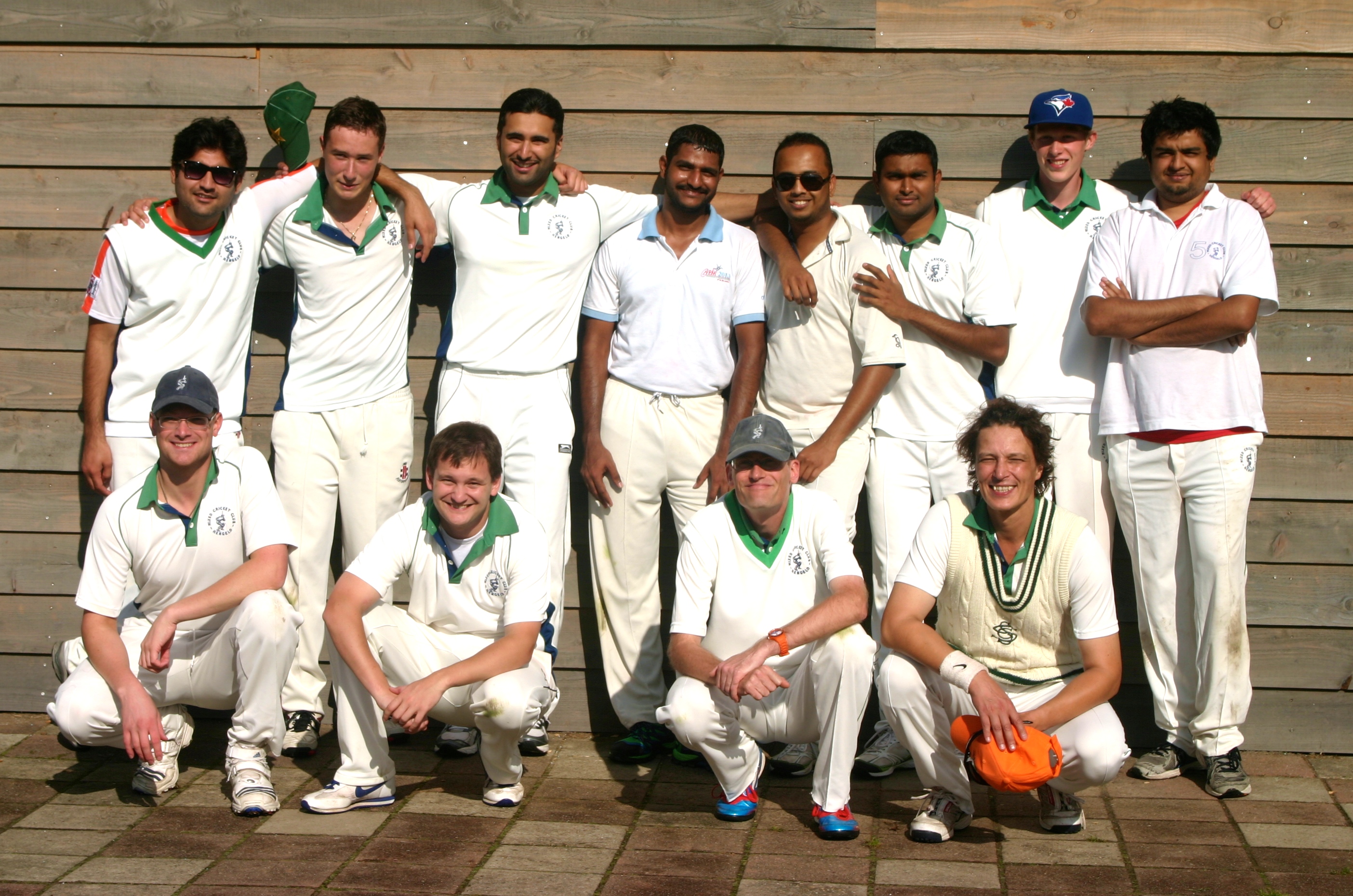 Voetbaltoernooi op ons veld
Op 21 augustus hadden we in ons clubhuis personeel van Apollo Vredestein te gast voor een voetbatoernooi. Het personeelsblad 'De Band' had er ook aandacht voor, klik hier voor het artikel.