Mixed Cricket Club "HENGELO"

Clubartikelen / Clubwear
---
Beschikbare clubartikelen MCC "HENGELO"
Onderstaande clubartikelen zijn te bestellen bij Johan Vriezen
Alle artikelen contant afrekenen bij ontvangst. Gebruik onderstaand bestelformulier.
Orders to be placed with Johan Vriezen
Cash payment on delivery to you. Use the orderform below.

shirt also available with long sleeves


trousers

cap

tie

fleece jumper without sleeves

fleece jumper long sleeves
On the left: articles for cold days !
Bestelformulier / Orderform

Click on the picture to download of open the orderform.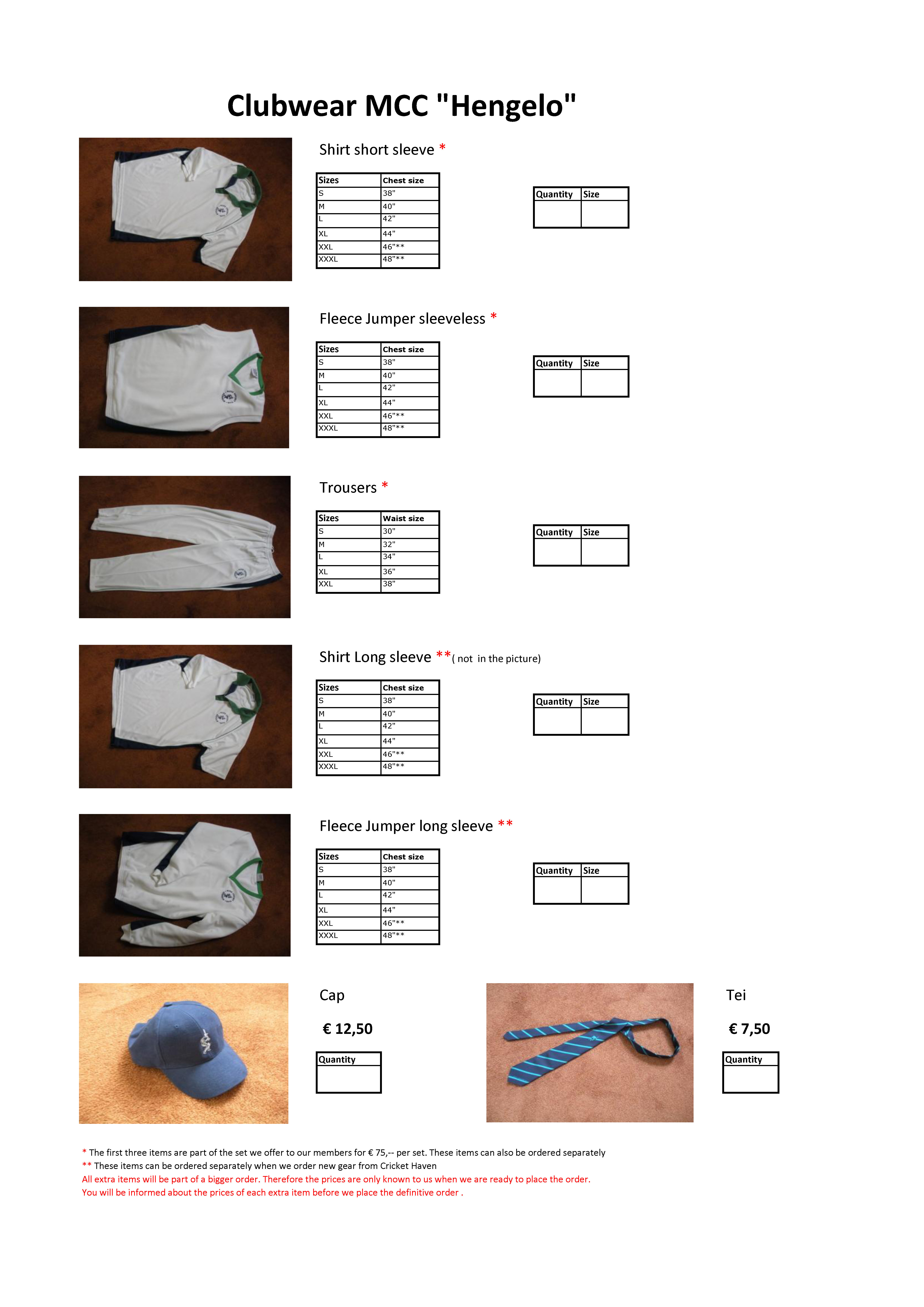 * The first three items are part of the set we offer to our members for € 75,-- per set.
These items can also be ordered separately
** These items can be ordered separately when we order new gear from Cricket Haven
All extra items will be part of a bigger order.
Therefore the prices are only known to us when we are ready to place the order.
You will be informed about the prices of each extra item before we place the definitive order.
IMPORTANT
Our team wear is sold out at the moment. Therefore we have to order new gear from England. This gives everybody the chance to order extra items. The prizes off the items in the scheme are the prizes of last year's order and might be different this year. If the prizes are higher this year we will be back before we order to check if you still want to order your extra's
When you like to order extra items, please fill in the scheme below and send it back to me.
Item
shirt short sleeve
Trousers
Fleece jumper
shirt long sleeve
Fleece jumper
sleeveless
long sleeve
Guide Price
€ 25,50
€ 31,-
€ 34,-
€ 28,-
€ 34,-
Name
E mail
amount
size
amount
size
amount
size
amount
size
amount
size
More information about the items and the sizes you will find in the attachment
Please make sure you send back you order by Thursday evening so we can order by the end of this week or beginning next week